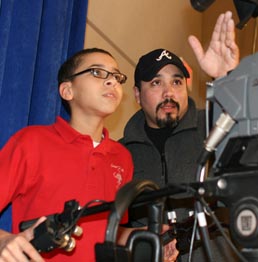 Your donation means we are able to continue telling the stories of our community. We televise about 1,500 new, uniquely local programs every year. You are helping us to bring you programming like Minnesota Vixen Football, Game of the Week, local school and holiday concerts, news and updates in our area, talk shows, original music shows, and even town festivities like parades, graduations, and queen coronations. Many of these are produced by our staff with the help of much-needed volunteers, but more than half are produced by local people and organizations, that need our help to tell their stories through video and affordable access to television and the Internet.
Your donation makes it possible for us to provide state-of-the-art video production equipment, and helps our professional staff to teach affordable monthly classes on different methods of shooting and editing video, and on how to make your own TV show. Funds are needed to provide ongoing training for our staff on new and developing technologies, so that we can make these new tools available, and help the community to use them.
Your donation helps exercise the American right to freedom of speech. With the ongoing disappearance of many local forms of media, you help us to remain a unique local media station located in the same community with our viewers. Our channels provide an outlet for many political views, community groups, and organizations that might not otherwise have a way to voice their opinion, share their faith, or send a message to the viewing public. We help our fellow non-profit organizations get their message out about donating and volunteering for their missions. Food Banks, Homeless Shelters, Youth Organizations, Mental Health Agencies, Fundraisers, Volunteer Events, and many others all need help telling their stories effectively - and affordably!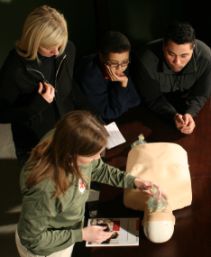 There are many different ways to support Town Square Television. You can help by purchasing copies of DVDs, Flash Drives, Downloads, and Streams that we produce. You can become a member of Town Square Television, which gives you access to our classes and use of our equipment and studio. Or if you prefer you can donate money directly to us via PayPal, check, or cash. Because of our 501(c) (3) non-profit status, donations are tax-deductible.
Another great way to support Town Square Television is to donate your time! We are always looking for volunteers to help with various productions. Not only do you help us, but volunteering with Town Square Television can provide you with the video production experience many are looking for. Many of our volunteers are college or high school students who are working towards degrees in communications, theater, video production, and performing arts. We also work with sports, music, and youth booster clubs to cover their events and preserve the memories forever!
Thank you very much for your support! We pledge to use these resources to keep on telling the stories of this community
Notable Quotes:

"Thank your AMAZING staff for going above & beyond to provide outstanding service to our communities.  You are a treasure!"

"You provide unique programming at a local level that cannot be found anywhere else."

"The pandemic shutdown has changed so much in our lives, including the ability to safely see, hear and taste what is going on in our own local community.  Thanks for bringing it into our home."

"Coverage of local candidate forums was absolutely essential this past cycle in helping me to choose how to vote."

"You provide me with access to quality audio/video equipment, editing suites, and the studio/control room.  I like to volunteer for productions when I'm able.  You have a GREAT staff!"

"I love that there is a place to catch local sports! Five years ago, I would not have had this opportunity. Thank you for playing on Facebook!"