Why Donate to Town Square Television?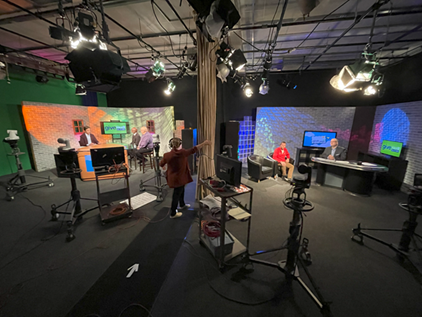 Thank you from the bottom of our hearts to all of our #GTMD23 donors for your generous support on Give to the Max Day! In case you missed out on this year's annual Giving Holiday on November 16, any day is a good day to give to your local non-profits, schools, and religious organizations. Learn more at www.givemn.org.
Town Square Television is the local community television station serving Inver Grove Heights, Lilydale, Mendota, Mendota Heights, South St. Paul, Sunfish Lake, and West St. Paul. We rely on donations from people like you to continue telling the stories of our community. Our donors help us to provide local programming like high school Game of the Week, school and holiday concerts, INSIGHT 7 local news stories, government meetings, candidate information and election coverage, and community celebrations like parades, graduations, and royalty coronations. Many of these are produced by our staff with the help of our amazing volunteers, but more than half are produced by local people and nonprofits who need our help. Your gift helps us to remain the only uniquely local media station located in the same community with our viewers.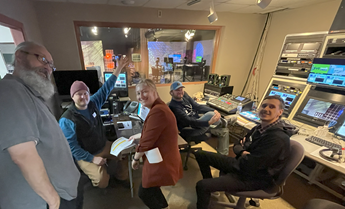 Your generosity allows us to make important family and civic events, from graduations to public meetings to non-profit fundraisers, available to all, providing video participation and coverage in a range of formats, including streaming, cable television, social media, digital downloads or media copies upon demand.
Your gift supports our work in telling the stories of northern Dakota County. Please give, and please take a moment to share why you gave to support Town Square Television. Post on social media, send a text to a friend, email a colleague, or just chat with a neighbor. Give to the Max is about giving together, so please help us reach more people as we build our community.
Notable Quotes:

"Good Morning Nick, … the video turned out GREAT!  We all had a good time making this video and the outcome was Fabulous!  Thanks again, hopefully we can work together in the future!" - Melissa at Neighbors, Inc.

"Thank your AMAZING staff for going above & beyond to provide outstanding service to our communities.  You are a treasure!"

"You provide unique programming at a local level that cannot be found anywhere else."

"Coverage of local candidate forums was absolutely essential this past cycle in helping me to choose how to vote."

"You provide me with access to quality audio/video equipment, editing suites, and the studio/control room.  I like to volunteer for productions when I'm able.  You have a GREAT staff!"

"I love that there is a place to catch local sports! Five years ago, I would not have had this opportunity. Thank you for playing on Facebook!"