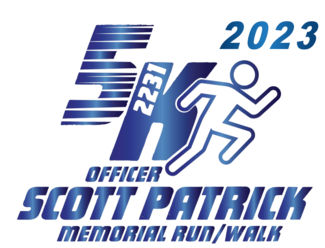 Register today for the 18th annual Officer Scott Patrick Memorial 5K Run/Walk to benefit Special Olympics Minnesota and Northern Dakota County Beyond the Yellow Ribbon.
Race Day Schedule:
7-8:30 a.m. | Packet pickup open
7:30-8:30 a.m. | On-site registration open
9 a.m. | Race starts
Race Location: The Village at Mendota Heights, Intersection of Main Street and Market Street
Registration
Print and complete the 5K Registration Form. Registration forms are also available at Mendota Heights City Hall.
Include payment by cash or check. Registration fees are payable to Beyond the Yellow Ribbon.
Mail or drop form off to Mendota Heights City Hall, 1101 Victoria Curve, Mendota Heights, MN, 55118.
Payment must be received by 4:30 p.m. on Friday, June 2, to receive the preregistered fee. Online registration is not available this year. Regular City Hall business hours are Monday–Thursday: 7 a.m.–4:30 p.m., Friday: 7–11:30 a.m. Registered participants receive a T-shirt and are entered into a prize drawing. Prizes distributed as part of this event are provided by Beyond the Yellow Ribbon.
For more information visit: https://mendotaheightsmn.gov