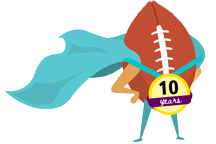 Join The Open Door and Aquatennial Commodore, Scott Swenson, for our 10th Annual Super Bagging Fundraiser on February 11th & 12th. At this two-day, hunger-fighting fundraiser, volunteers will take over seven Cub Foods stores across Dakota County for the entire weekend to bag groceries for tips. The goal is to raise $50,000 to fight local hunger in the community.  
420 volunteers are needed for this annual fundraiser, so bring your friends, family, co-workers, team, or community organization. It is a great group, team-building volunteer opportunity! Volunteer shifts run from 9:30 a.m. – 6 p.m. on Saturday, 10 a.m. – 3 p.m. on Sunday and are roughly two hours long. There are 10 volunteer shifts per two-hour time slot and there is no limit to the number of volunteer shifts you can sign up for! A free 2023 Super Bagging t-shirt is provided to each volunteer.  
 
Click here to sign up for a volunteer shift or visit theopendoorpantry.org/superbagging for further event information. Additional questions can be sent to The Open Door's Events Lead, Lisa Wendt, at [email protected]. Can't volunteer but want to support The Open Door? Donate today at theopendoorpantry.org/donate. 
In partnership with Drake Bank, The Open Door's 10th Annual Super Bagging Fundraiser will be at the following Cub Foods locations: Apple Valley Cub, Eagan East Cub, Eagan North Cub, Eagan West Cub, Lakeville North Cub, Lakeville South Cub, and Lakeville West Cub.